Discover more from pasta social club
A community celebrating all things pasta-making and -eating, with recipes. Make ravioli, make friends!
Over 17,000 subscribers
Thoughts of "September 2023" have been lodged in the back of my mind for the past three years, and now, somehow, we're actually here. If you're new to this newsletter, I'll catch you up: My debut cookbook, Pasta Every Day, hits shelves in just 12 days, and I am thoroughly excited (read: nervous) about it. September 1st also marks one year since I started on Substack (where does the time go?!), and I've loved every minute of it. So, to celebrate both of these milestones, I thought I'd share a couple of excerpts from the book for this Pasta of the Month, excerpts featuring my favorite pasta of all: orecchiette, "little ears" from Puglia.
I love orecchiette because they're as fun to make as they are to eat. Their nooks and crannies effortlessly capture any sauce, and that chew! It's impossible to resist. Here I'll show you how to make them (with help from the book's step-by-step photos, as well as the video that's one of many clips accessible via QR code), and my favorite way to eat them: with a super-simple, extra-delicious, even-nutritious broccoli sauce. Broccoli and orecchiette are a common combination, and I've probably made this sauce the most of any recipe in the book (it works great with dried pasta, too, especially rigatoni!). I should reiterate that the book is organized by pasta's core components—doughs, shapes, fillings (for stuffed pastas), and sauces—so you can mix and match dishes to your heart's content. I do, of course, offer pairing suggestions throughout the book (as you'll see in the excerpt), and the orecchiette/broccoli combo is one of those recommendations.
Words cannot fully express my gratitude to you all for being here, for trying my recipes, and for supporting my work. I am truly, truly thankful. As you might expect, I'll be a little more absent from Substack over the next couple of weeks, but I'll be returning in full-force with an extremely delicious recipe that's definitely worth waiting for. Happy fall, everyone!
—Meryl
📚 PS: There's still time to pre-order the book if you haven't already! Pre-orders are so, so important to the book's success and I really hope you'll consider it. And, if you upload your pre-order receipt here, you'll get invited to a pre-orders-only virtual pasta class with me on September 21!
🍻 PPS: For those based in New York, I'm hosting a book signing and little celebration at The Greats of Craft on Monday, September 11 from 6:30-8:30pm. If you're local, I hope you'll stop by and say hi! Each ticket includes a drink.
---
Orecchiette with Broccoli Sauce
Reprinted, with permission, from Pasta Every Day: Make It, Shape It, Sauce It, Eat It, by Meryl Feinstein (Voracious, 2023)
To get us oriented, here's what we're making in the context of the table of contents:
Orecchiette
Make them with
Durum Wheat & Water Dough (37)
Whole Wheat & Water Dough (38)
[Substack note: Here I'd recommend this semolina & water dough or this whole wheat semolina dough. Orecchiette benefit from a drier dough, so start with 190ml of water, adding more as needed.]
Pair them with
Broccoli Sauce (281) • Spicy Garlic & Anchovy Sauce with Broccoli (335) • Tomato Sauce with Olives & Fried Capers (264) • White Bean Soup with Parmesan & Kale (350)
What they are
The pride of the Puglian table. In the port city of Bari, this pasta has graced women's hands for almost a thousand years; walk the narrow stone streets today and you'll meet mothers and daughters stretching dough into pasta at roadrunner speed. Big and little ears—orecchione and orecchiette, respectively—are scattered across mesh drying racks by every doorway, their hollow coves dancing with shadow and light under the beating sun. The women of Bari are so good at their craft that they've developed their own method entirely, called "arco basso," in which the pasta is fashioned in one continuous movement instead of two, like you'll see here. And if I had to pick a favorite pasta, both to make and to eat, this would be it.
How they're traditionally served
The smaller versions with meat sauces, the larger with vegetables, and especially with cima di rapa (broccoli rabe), which grows abundantly in Italy's south.
What you need
A work surface, preferably wooden;

metal bench scraper or sharp knife;

table knife, butter knife, or try a few knives to find what works best for you.
---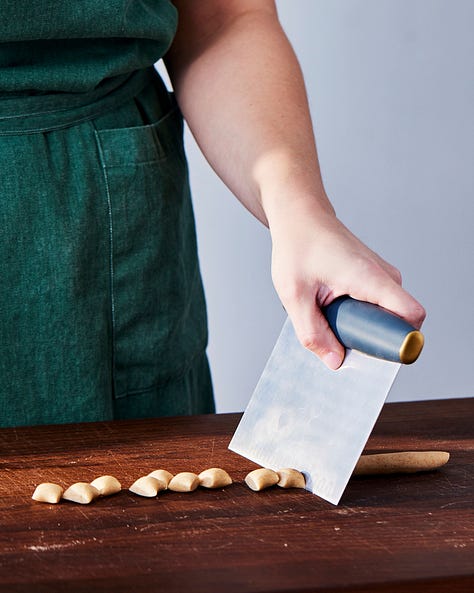 Make the dough
Make your dough of choice and let it rest, tightly covered, at room temperature for 20 minutes.
Set up your workspace
Dust a sheet pan with semolina or line it with a dry dishcloth. Gather your tools.
Roll the dough into a rope
Cut off a slice of dough, about the width of one or two fingers. Keep the rest covered.
Roll the dough into a ½-inch (1.25-cm) thick rope. Start in the center and use your fingers or the palms of your hands to roll the dough, first back and forth, until the surface is smooth, and then outward in opposite directions, eventually making your way toward the ends. If the dough slides and it's difficult to get a grip, wet your hands a little and try again. The rope does not need to be perfectly even.
Cut the rope into pieces
Cut the rope into roughly ½-inch (1.25-cm) pieces.
Make the orecchiette
Place a nugget of dough on your work surface. Then use the serrated edge of a table or butter knife to drag the dough toward or away from you, with firm pressure, tilting the blade downward into the dough at a 30- to 45-degree angle, until the dough curls over on itself like an ocean wave crashing on shore. If dragging the dough toward you, you can use your non-dominant index finger to apply more pressure on top of the tip of the knife as you drag for more control.
Don't be shy with the pressure; the more tension you feel between the dough and the knife, the rougher the surface will be, which will help catch sauce.
Peel the curled edges apart with your fingers and invert the dough over your thumb to expose the rough interior, stretching it a little into a small dome.
Arrange the finished orecchiette, rough side up, in a single layer on the prepared sheet pan. Repeat with the remaining pieces, and then the remaining dough. If you have the time, let the pasta dry for an hour (or up to 5 hours) before cooking.
---
Broccoli Sauce
Serves 4, enough for 22 ounces fresh pasta or 16 ounces dried pasta
Pasta with broccoli is a staple in the Italian south, particularly Calabria, and in Rome. Like the best weeknight dishes, its ingredient list is short and it's on the table in no time. Cooking the broccoli and pasta in the same pot isn't just convenient—it makes for a harmonious eating experience that might make you, like me, question everything you know about this humble vegetable. Don't be afraid of overcooking the broccoli here; the more it falls apart, the creamier the sauce will be.
Kosher salt
1 pound (450 grams; 1 large or 2 small heads) broccoli
¼ cup (60 ml) extra-virgin olive oil
½ medium yellow onion, finely chopped
Freshly ground black pepper
4 garlic cloves, thinly sliced
¼ teaspoon red pepper flakes
1½ ounces (40 grams) finely grated Pecorino Romano, plus more for serving
Juice of ½ lemon
Make it vegan: Skip the Pecorino.
Bring a large pot of water to a boil and season it generously with salt. Break the broccoli into small florets, then trim and peel away the tough outer layer of the stalk and cut it into bite-sized pieces. When the water is boiling, add the broccoli and cook until tender, about 7 minutes.
While the broccoli cooks, warm the oil over medium heat in a large sauté pan or Dutch oven. Add the onion, along with a pinch of salt and pepper, and cook until softened, stirring often, about 5 minutes. Stir in the garlic and red pepper flakes and cook for 2 minutes more.
With a slotted spoon, transfer the broccoli and a splash of its cooking water directly to the pan with the onion (reserve the cooking water). Reduce the heat to medium-low. If using fresh pasta, continue to cook the broccoli in the pan for 5 minutes, using a wooden spoon to break it down further; if using dried pasta, skip to the next step.
Add your pasta of choice to the broccoli cooking water and cook until just shy of your liking.* Keep breaking down the broccoli while the pasta cooks, stirring often. Season to taste.
*Substack note: Fresh orecchiette take approximately 3 to 5 minutes to cook, depending on thickness and drying time.
To serve
Transfer the pasta directly to the sauce, along with ½ cup (120 ml) pasta cooking water (if you need to drain the pasta first, make sure to reserve a little more cooking water than you might need). Continue cooking, stirring constantly, until the pasta is well coated, 1 to 2 minutes. Turn off the heat and stir in the cheese and lemon juice.
Divide the pasta among bowls and serve, topped with lots of black pepper and more grated cheese.
pasta social club is a reader-supported publication. To receive new posts and support my work, consider becoming a free or paid subscriber.